Reverend Douglas W. House
The Reverend Douglas W. House began as a Texan and attended Kindergarten through grade eight in Pasadena, Texas. He then went to Chattanooga, Tennessee for a year and then to Omaha, Nebraska. He graduated from high school in Omaha and then attended the University of Nebraska. He lived in Omaha for 25 years.
Reverend House earned a Bachelor's degree in business administration from the University of Nebraska and then pursued accounting and became a Certified Public Accountant. After working several years in the accounting field, he realized something was missing. He then went to Dubuque Theological Seminary from 1993-1997.
"During my ministry, HOPE, ENCOURAGEMENT, HEALING, and EXPRESSION have been recurring themes. The Expression has manifested as poetry, biblical storytelling, preaching, dramas written, cartoon characters as a part of my ministry, puppet ministry, art, prayer, and presence and I am in my 5th year as an aspiring violinist. I have used violin music for therapy in church, home, nursing home and hospital settings."
During the time Reverend House was at Dubuque, he served as a student pastor at East Friesland Presbyterian Church in Ackley, Iowa. He did an internship at Fort Dodge First Presbyterian Church in Iowa under the leadership of the Reverend David Feltman.
Reverend House has served in three installed calls since 1997. First, a yoked call in Nebraska at Laurel and Belden, a second at Wellington, Kansas, and then most recently at Lone Rock, Iowa. He started at Lone Rock in May, 2007. That fall, he took training to serve as an EMT and volunteered on the ambulance squad for 7 ½ years. He also was active in the community club, fire department, and community dinner theatre.
Reverend House and his wife Linda have family in Kansas City and Manhattan, Kansas.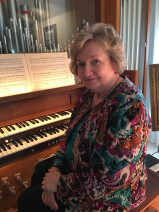 Pat Bicknell, Organist and Musician

Pat Bicknell has the privilege of serving as Organist for Union Presbyterian Church. Beginning in her high school days in Alabama, God has provided opportunities for her to play the organ in churches wherever she and her husband Bob have lived. From Florida to Texas, with Louisiana, Oklahoma, and Missouri in between, she has served the Lord through the gift of music. She began her higher education as an organ major at Samford University in Birmingham, Alabama. She served as organist at Bob's home church, where they met, married and moved to Oklahoma.
During the years of raising a family, God led Pat to the field of Psychology, and following bachelor's and master's in this field, ultimately into teaching Psychology at the college level. She retired from Howard Payne University in 2005, and is involved in prayer ministry and learning Hebrew. Accompanying the choir of Union Presbyterian Church and providing service worship through music are, for her, opportunities to share God's love with those who come to worship. Music leadership for the choir of Union Presbyterian Church is provided by her husband, Bob Bicknell. They moved to Brownwood in 1989 when he became Academic Vice President at HPU. He has served Union Presbyterian Church as Choir Director since 2004.

Dr. Robert Bicknell, Director of Music
Music leadership for the choir of Union Presbyterian Church is provided by Bob Bicknell. He is a semi-retired administrator at Howard Payne University, responsible for the accreditation activities and reports for the University. He and his wife Pat moved to Brownwood in 1989 to become Academic Vice President at HPU, and he has served Union Presbyterian Church as Choir Director since 2004.Bob grew up in Alabama, then pursued his education in Music, earning bachelor's, master's and a Ph.D. in this field. After teaching music at the college level for 15 years, opportunities in administration led him away from direct involvement in music, so the role of choir director now provides a wonderful return to the "roots" of earlier years. He now frequently serves as a consultant to other universities on accreditation, and regularly chairs accreditation teams across the south.A sincere invitation is extended to all who would like to sing in the Union Presbyterian Church choir. The group offers their collective witness for Christ to the church and has a lot of fun in the process. Come join in!!

Rosalie Pizarro

Rosalie Pizarro was born and raised in Brownwood. She is the youngest of 12 children with 5 girls and 3 brothers living. Her parents are deceased along with 2 sisters and 2 brothers. Rosalie and her husband Romeo and have 3 children. Hector lives in Weatherford, and Ignacio and Benita live in Austin. They also have 5 granddaughters.
Rosalie and Romeo are lifetime members of Saint Mary's Catholic Church and love being active in the church.
After graduating from High School, Rosalie went to work for GTE as a secretary for the Engineering Dept. After working 15 years for General Telephone, the Engineering Dept. was moved to San Angelo. Given the option to move or commute to San Angelo, Rosalie chose to stay in Brownwood. With help of my her friend and GTE supervisor Bill Faircloth, she was hired by the Brownwood Independent School District. After working in accounting for 1 year, Rosalie became the secretary at Northwest Elementary School, the same Elementary School she attended and all 3 of her children also attended. After 5 years as secretary Rosalie became the Parent Liaison. She loved working with children, parents and especially with grandparents that were raising their grandchildren. After working for B.I.S.D. for 25 years, in January of 2015 she retired to spend more time with grandchildren. Both Rosalie and her husband are retirees of the Brownwood Independent School District.
"God is at work in the world and calls us to service. We have all been given spiritual gifts and talents. In September, 2016 I was asked if I would be willing to apply for a part-time position of Office Assistant here at Union Presbyterian Church. Not knowing what to expect, I applied and am truly blessed to work in the church office on Monday's and Wednesday's. As Office Assistant, I pay church bills, answer the phone, help prepare the church bulletin and help Pastor House as needed. I do receive a salary, but to me the most inspiring part of working at Union Presbyterian Church is the spiritual love and friendship of all parishioners.
I indeed have a new chapter in my life. To continue to worship God regularly, though there are many challenges, much suffering and at times life is tough. Union Presbyterian Church has reminded me that spiritual growth is enhanced by doing the work of GOD through prayer, sharing our faith with others, witnessing to our faith and loving our neighbor."